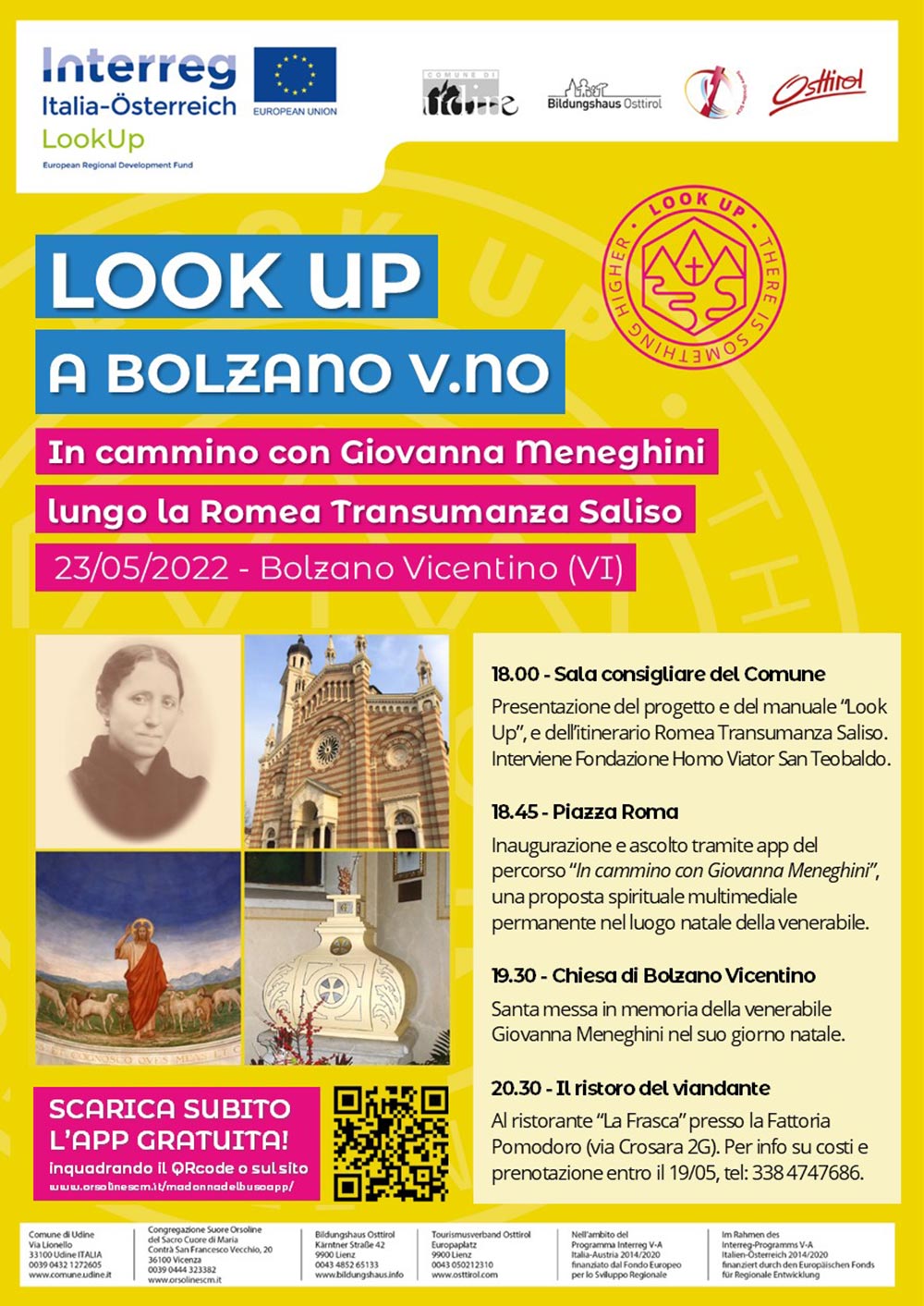 On May 23 the inauguration of a permanent multimedial experience along the Romea Transumanza Saliso
An articulated event promoted by the interreg Look Up project will take place on Monday 23 May in Bolzano Vicentino (VI). The Italy-Austria interreg project has promoted the rediscovery of the cross-border artistic and religious heritage, and has among its partners the Congregation of the Ursuline nuns scm, promoter of the event to be held in Bolzano Vicentino, on the day and in the birthplace of the venerable Giovanna Meneghini, founder of the Ursuline Congregation.
At 6.00 pm appointment at the Council Chamber of the Municipality of Bolzano Vicentino for a meeting to present the interreg project and the Romea Transumanza Saliso itinerary: a branch of the ancient Romea Strata pilgrimage road, which connects Enego to Vicenza in the footsteps of Giovanna Meneghini, originally from Enego but born in Bolzano Vicentino on 23 May 1868 just as her family of shepherds was engaged in transhumance. The presentation will also be attended by the heads of the Homo Viator San Teobaldo Foundation, who within the Look Up project have mapped the path making it available to pilgrims and walkers, and contributing to the creation of a manual that presents the points of interest along the route.
At 6.45 pm, then, the event moves to Piazza Roma for the inauguration of another of the initiatives of the Look Up project: a permanent multimedia spiritual experience entitled 'Walking with Giovanna Meneghini', which through a free app allows to listen in an immersive way, in the places of Bolzano Vicentino linked to the memory of the venerable. To download the free app click here.
After the listening moment, for those who wish, at 7.30 pm the holy mass in the parish church will celebrate the memory of Giovanna Meneghini on her birth day.
At 8.30 pm time for the 'ÄúRistoro del viandante'ÄĚ, with a dinner by reservation at the 'ÄúLa Frasca'ÄĚ restaurant of the Pomodoro Farm (via Crosara 2G). For info on costs and booking by 19/05, call 338 4747686.
Attached is the flyer of the event, created with the patronage of the Municipality of Bolzano Vicentino. For all information and to know the activities of the Look Up project, click here.
---
---
---